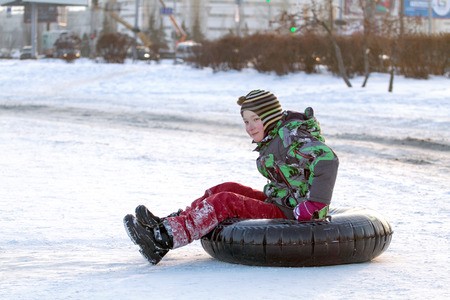 Snow tubing is a well-loved winter activity for all ages. Before hitting the hill, there are a few things you need to know! However, first, remember to read your tube parks information carefully to see if anything has changed since the last time you tubed.
Here are some of our favorite tips for snow tubing with children:
What Should You Wear?
Wearing the right clothing can make your tubing experience much better. Always dress for the conditions. This means in the winter; you will likely need to bundle up. Wearing long underwear, warm socks, and waterproof outerwear and boots are always recommended.
For extra warmth, don't forget a hat, scarf, and gloves!
Choose the Day Sessions at Your Snow Tubing Park
If you plan on tubing with young children, we'd recommend choosing a time during the day to go rather than trying to tube at night. It will be much easier keeping track of your child during the daylight, and often nighttime tubing attracts older crowds.
Plan a Meeting Area with Your Child Near the Tubing Lanes
Because tubing is a popular winter pastime, you never know when it will get busy. Before you let your child roam around the hill, pick a meeting place in the tubing area, and set a time to meet. Even if you plan on watching your children the entire time, it's always best to plan a meeting location if you get separated.
Bring Extra Clothes to Change Into
After a long day of tubing, it'll feel extra nice changing into a pair of warm, cozy clothes. While tubing, there is a chance that your clothes might get a little damp either from the snow or sweat, so bringing a fresh change of clothes will make for a comfortable drive home.
Plan Where You're Going to Go Snow Tubbing
Before you drive out to a tubing destination, make sure you're doing the proper research, so you are prepared and ready to go! Because snow tubing is a popular family activity, tickets can sell out rather quickly, especially on busy weekends or near the holidays.
When you visit Innsbrook Village Country Club & Resort, we always recommend Ruidoso Winter Park for all snow tubing activities. This year, they've even added extra runs! It's the perfect activity for the entire family, and it's a quick 8-minute drive from our condos and townhomes.