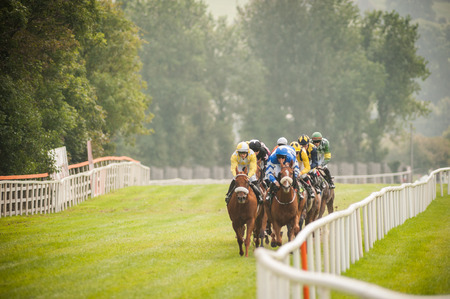 Horse racing is an ancient sport that can be traced back to Central Asia. Modern horse racing began when English Knights bred English mares with Arabian stallions to create the Thoroughbred horse. Although horse races can consist of many different breeds the Thoroughbred horse is the most popular.  Originally, this sport served as entertainment exclusively for the wealthy.
Horse racing became a growing sport in America during the 17th century. It began when British settlers brought their horses to America. The first racetrack was built in 1665 in Long Island. By 1890 there were over 300 racetracks in America. As the sport grew, there was no way to regulate the rules so in 1894 the American Jockey Club was formed. As the sport grew racetracks began creating betting systems to increase attendance at the races. The audience for racing became increasingly working class and lower middle class. The introduction of betting helped to circulate money and bring larger crowds to the races.
According to the NY Times, In terms of economic impact, horse racing directly accounts for $10.6 billion in goods and services, with an annual gross domestic income of $26.1 billion.
The racing season starts around the beginning of summer, The All-American Futurity, located at Ruidoso Downs Race Track, is the world's first $1-million race for any breed of horse. It is the only horse track in the United States and Europe that has separate quarter horse straightaway and oval thoroughbred tracks. Opening day at Ruidoso Downs is on May 10th. Admission is free and there are many different summer concerts that run throughout the season.
If you are planning to see the amazing All-American Futurity race in person stay at Innsbrook Village Country Club & Resort. Innsbrook Village Country Club & Resort has beautiful privately owned resort condo rentals and townhome rentals. Join us to celebrate a classic American sport! Visit our rental page to get a quote on our available homes today!