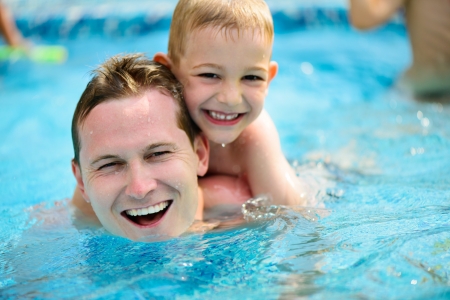 The family that swims together stays together! Well, that may not be exactly how the saying goes, but in some ways, it can actually be true. Life can get a little hectic sometimes, and your parent-child relationship can start to feel more like a chauffeur-passenger relationship or worse. If you don't get many opportunities to spend time with your children and actually have fun, planning a family trip is definitely the first step. Next, you want to choose activities that everyone can enjoy – and swimming is definitely one of them.
While staying with us at Innsbrook Condos, grab the kids and take a dip in our large outdoor swimming pool, equipped with brand new lounge furniture.
Who can think of a better way to spend time with the family in the New Mexico heat than in the pool? While your kids will likely be happy to just splash around with you, there are plenty of things you can do to make things more exciting and interact with them, creating even better memories to look back on together.
Here are some great ways to bond with your children in the pool:
Basic Swimming Lessons
If your child is really young and hasn't mastered the art of swimming yet, that doesn't mean they can't join you in the pool. Slide floaties on their arms and hold on tight. Feeling safer in your arms, they will cling to your touch – and we all know that skin-to-skin contact helps to foster a bond between a parent and their child. Once they get more comfortable with the water, you can encourage them to kick their feet around and start introducing basic swim tactics to them.
Popsicle
This is a great game to play with kids who are old enough to know how to swim underwater. Much like the on-land version of tag, the person who is tagged "it" has to freeze (like a Popsicle) until another person swims through their legs to unfreeze them. Of course, this game should be played in the shallow section of the pool where your children can stand comfortably.
Simon Says
Same as with the on-land version, Simon Says is a great game where the parents can call out an action and the child has to complete it – but only if the command is prefaced with the words, "Simon says". Not only is this a really fun game that encourages healthy competition between siblings, but it's a great way for parents to sneak in a lesson on listening.
This summer, book a vacation rental at Innsbrook Condos and enjoy all the amenities that we have to offer, including our great swimming pool! Spend a few afternoons bonding with your kids and relaxing in the sun together. We know you won't regret it!