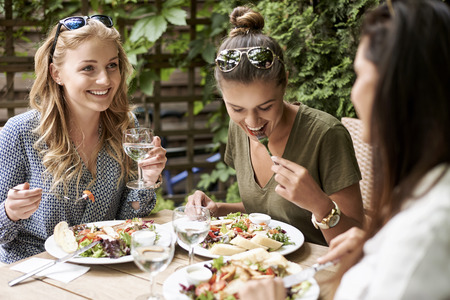 What's the best part of traveling? The food, of course!
So, when you're planning your New Mexico vacation, it's essential that you fill your itinerary with all the hot eateries and food joints in the area. From classic American fare to authentic Mexican food, Ruidoso has something for everyone's palette.
Whether you're here to ski the slopes or it's just a stop on your long-awaited road trip, the right cuisine will take your vacation to the next level.
Get a true taste of Ruidoso with our help…
Here are the top places to eat in Ruidoso, New Mexico!
Tina's Cafe
In Midtown Ruidoso, Tina's Cafe brings you classic American fare with a New Mexican zing.
This eatery is sure to delight with generous portions and an even more generous and quite impressive dessert menu.
Definitely come hungry when you visit Tina's!
Hall of Flame Burgers
Craving a burger? How about the best burger in the city?
That's right! Hall of Flame Burgers is home to arguably some of the best burgers in Ruidoso.
With a plethora of toppings and flavors, you're going to be blown away by some of these specialty creations, like their spicy green chili cheeseburger!
Zocca Coffee
Ready for your caffeine fix?
Zocca Coffee has you covered! Their menu consists of beverages that will have your taste buds excited and baked goods that are to die for.
It's an intimate stop along your restaurant journey, offering everything from your favorite latte, to a sweet treat, or even a delicious sandwich.
The Village Buttery
Even the name probably has your mouth already watering thinking about the buttery baked goods you're going to sink your teeth into.
But it's not all baked goods. You can enjoy some lighter fare with their delicious soups, sandwiches, and salads, perfect for an energizing lunch to send you off on the rest of your fun-filled day.
Can't Stop Smokin'
If you want to experience some of the most authentic and delicious mountain-style BBQ in the southwest, then Can't Stop Smokin' is your go-to.
Founded in 2005, this eatery has everything from beef brisket to smoked poultry, with an unbelievable staff ready to fill your order.
Texas Club
Looking for fine dining Ruidoso style?
The Texas Club is where you'll find a classy and intimate night on the town. You'll fall in love with the delectable food and pleasant atmosphere, but we highly suggest making a reservation to ensure you get a table!
Billy's Sports Bar and Grill

After testing your luck at Billy the Kid Casino, it's time to re-energize at Billy's Sports Bar and Grill.
It's open daily, serving up fried catfish, shrimp, rib-eye steaks and so much more.
As you dine, you can enjoy the simulcast horse racing and live entertainment throughout the year, making this eatery a must on your itinerary.
Michael J's Restaurant
This restaurant will have you thinking that you took a vacation to Italy with fresh seafood, meat dishes, and your Italian favorites.
There's nothing better than being served by a team of food lovers and that's exactly what you'll find at Michael J's.
Now that you know all of the hot spots in Ruidoso, you'd think the hard part is over. However, you now have the most difficult task ahead of you: choosing one!
As you plan your New Mexico vacation and fill up your itinerary, be sure to check out our list of all there is to do in Ruidoso!