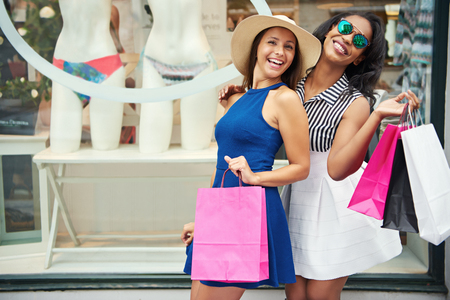 It's impossible to vacation in New Mexico and leave empty-handed. Trust us; the local shops and boutiques will tempt you like no other with antiques, accessories, treats, and souvenirs.
As you stroll down the streets of Ruidoso, you'll find that many shops feature unique items from local crafters and artisans, making everything you buy a one-of-a-kind.
The hot shopping strip is in the heart of Ruidoso on Sudderth Drive. And with so many amazing places to shop, it can be hard to know which shops are a must.
So, we thought we could help!
Here's a list of stores—our favorite stores to be exact—that you just have to go to on your New Mexico vacation!
Shopping in Midtown Ruidoso
It's the ultimate place to go for entertainment and shopping: Midtown Ruidoso!
With a truly energetic nightlife, wine tasting and colorful shops lining the district, this will definitely be a shopping stop along the way.
Here are just a few places you'll find on this shopping strip:
Indulgence
For lovers of fine jewelry and apparel there's Indulgence. This Ruidoso boutique strives to offer one-of-a-kind items that will enhance your everyday glamour.
Staying up-to-date on the latest fashion trends, this shop has everything you need to create an unforgettable look.

My Sister's Closet
First and foremost a consignment shop, this boutique offers a unique array of recycled designer clothing, accessories, art, and even furniture.
Not to mention, this is where you can rent the motor scooters that you see everyone using around town! Rent by the hour or for the day and take in Ruidoso the right way.
HorseFeathers Gifts & Engraving
Looking for the perfect gift to bring home or a meaningful token you can take home with you to remember the trip?
At HorseFeathers, there are plenty of gifts to choose from that you can
Shopping at River Rendezvous
River Rendezvous is a fun shopping center right on Sudderth Drive. This center is home to a few shops and cafes that you must visit on your New Mexico vacation. It has the makings of a perfect day: eating delicious food and shopping in Ruidoso!
Tina's Cafe
Choose between tamales, enchiladas, or brisket at this beloved café in the heart of Ruidoso.
You can sit inside, in a beautiful, light room or outside by the fireplace. And don't forget to grab a cinnamon roll or pastry!
Chartreuse Moose
As a quaint little store located in the River Rendezvous, you can find charming antiques and great merchandise.
Rustic Creations
Stop on by Rustic Creations after for handmade gifts and home décor to take a little piece of Ruidoso home with you.
Ski Shop & Sporting Goods
With Ski Apache as one of Ruidoso's most exciting attractions, of course there has to be a shop where you can snag all of your necessary equipment and accessories!
St. Bernard's Ski & Snowboard Superstore
Open year-round, this superstore is exactly that: a SUPER store for all things skiing and snowboarding.
With equipment for sale and affordable rentals, the team at St. Bernard's will have you ready to hit the slopes in no time.
There are several specialty boutiques, antique shops, furniture stores and more in this village. Trust us; you won't run out of places to go!
And just like that, your day of shopping in Ruidoso has come to a triumphant close.
Be sure to check out the rest of the activities and attractions you'll find in Ruidoso and we'll see you soon!