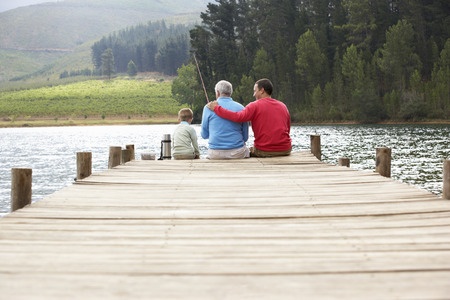 Ruidoso attracts visitors from all over, and what people love most about traveling to this area is the natural geography, perfect for fishing, hiking, and exploring. Our lakes in particular are abundant with fish and other aquatic wildlife that visitors enjoy.
If you are an angler looking for a fishing adventure in Ruidoso, then check out a few destinations where you can reel in a big catch.
Rio Ruidoso
As a destination that is found on just about every local fishing list, Rio Ruidoso is a gorgeous river that starts in Upper Canyon and then flows east. It is available to the public for every kind of fishing adventure. If the water level is suitable, Rio Ruidoso is usually stocked with rainbow trout year-round.
Eagle Lakes
Located on the Mescalero reservation, the Eagle Lakes are made up of two lakes, making them a prime spot for Ruidoso fishing. Anglers will be more than satisfied with an abundance of fish from late May through mid-September. This area is also great for last minute trips because daily permits may be purchased at the entrance.
Grindstone Reservoir
Just two miles away from downtown Ruidoso, Grindstone Reservoir is considered one of the deepest and largest lakes in the area. Visitors are allowed to fish from sunrise to sunset, and the lake is regularly stocked with trout. Boating is also permitted between April until the end of October with a permit that you can purchase on site.
Sleeping Springs Trout Lake
Sleeping Springs Trout Lake is a great fishing destination where trout run rampant. This is a privately-owned fishing spot with fees for gear, bait, and fish cleaning but it is also known for being a great place to bring any young children or first-time anglers. The location also offers paddle boats and a cute little duck pond.
There is a lot to do in the town of Ruidoso, and once you're tuckered out from your day of adventure, you may just decide to make one of the homes at IInnsbrook Village Country Club and Resort your place of recharge. Contact us today to learn more about what we can offer anglers here.