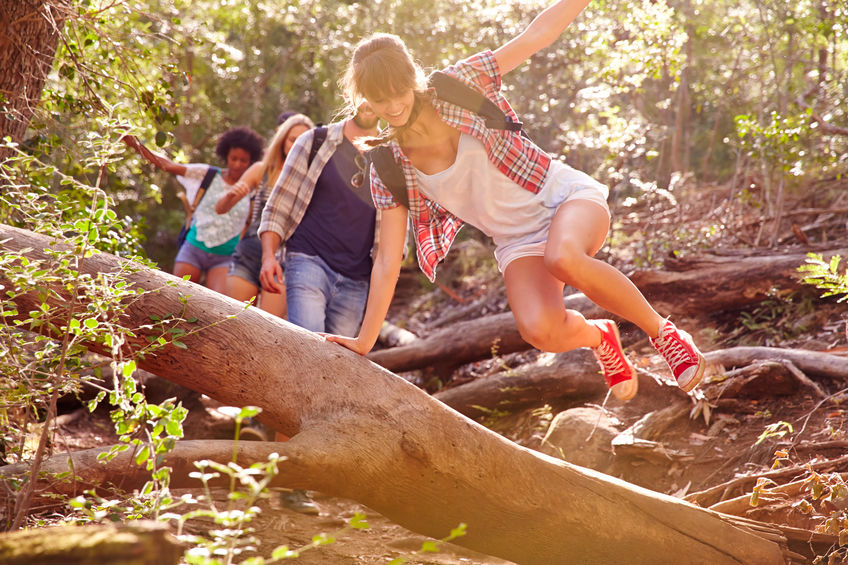 When you travel to Ruidoso, NM, you'll discover some of the most amazing things to do. Skiing is available throughout the winter. While camping, hiking, and fishing are popular in the summer and spring.
Not to mention, Ruidoso is covered in beautiful foliage of the aspen trees that peak during the fall but continue to catch the eyes of others throughout the year.There are plenty of breathtaking spots to visit when you travel to Ruidoso, NM.
Let's take a look at some of the best parks and nature to explore when you visit:
Lincoln National Forest
Ruidoso, NM, is home to the Smokey Bear District of the Lincoln National Forest. The locals love visiting Lincoln National Forest because it offers two wilderness areas with year-round outdoor hiking, horseback riding, mountain biking, hunting, camping, skiing, and snowboarding.
When visiting, you can find vegetation that ranges from semi-desert plants, pinyon pine, and juniper to spruce, fir, and high-elevation grasses and forbs. Because the weather is tied to the park's elevation, you can expect high temperatures in the summer, dry and windy weather in the spring, and frequent rainfall. Although most people get upset over a rainy day, the rain helps produce stunning colors in the forest all year round, especially in the fall!
Grindstone Lake
With the COVID-19 Pandemic, Grindstone Lake and Alto Lake are only open to Lincoln County residents, property owners, and Mescalero residents. If you love to fish, Grindstone Lake is regularly stocked with rainbow trout, and you may even occasionally find catfish and smallmouth bass. Avid anglers love to fish at Grindstone Lake because it is one of the only few lakes where you can travel in a non-motorized boat.
Boating is encouraged all year-round as long as you have the proper permit. While you're out on the water, you may also catch a glimpse of other wildlife, including Bald or Golden Eagles, Black Bears, Mule, Deer, Elk, Blue Heron, and Ospreys.
Grindstone Lake Trail
The Grindstone Lake Trail is a relaxing trail that allows you to take in all of the Grindstone Canyon sights. The path consists of mostly smooth dirt with a few larger rocks to navigate around. As you continue your adventure, you will be sure to see the breathtaking overviews of the canyon and lake. If you're looking for some of the best views of Ruidoso, NM, they can be found at Grindstone Lake Trial.
Ruidoso Two Rivers Park
From March until September, visitors can enjoy a unique experience walking along the Two Rivers Park trail. Besides the possibility of seeing jumping trout out of the water, guests may also see tiny fairies around the trials. Each fairy has its own special job within the forest, and you can find their homes among the trees, bushes, flowers, and rivers. Fairy searching is an activity that all members of the family can participate in!
Wingfield Park
Open seven days a week from dawn to dusk, Wingfield Park is based on a first-come, first-use basis. Guests can enjoy a peaceful along the ½ mile gravel walking path before heading playing a game of Disc Golf.
There is also a playground for young kids to enjoy! It's the perfect place to spend an afternoon.
Ruidoso Dog Park
Does your furry friend want to explore Ruidoso with you? The Ruidoso Recreation and Park Commission has a public dog park where you and your pup can enjoy an off-leash exploring experience. Dog parks are a great way to spend some time outdoors and meet new people!
If you plan on bringing your pup to the Ruidoso Dog Park, make sure you're following these rules:
Leash your dog until safely inside the off-leash area and must be leashed upon exiting
Make collars and rabies tags visible
Clean up and properly dispose of your dog's waste
Owners must be present in the park while the dog is unleashed
Remove your dog from the park at the first sign of aggression
Leave puppies under four months or unhealthy dogs at home
Limit of 3 dogs per owner
Do not bring food to the park
An adult must accompany children under 14 years
Supervise all children in the park
Be considerate of others and ensure your dog's interaction is welcome
Visiting Ruidoso, NM
If you're looking for new activities to do in Ruidoso, NM, make sure you're checking out these local parks and trails! When traveling becomes safe again, and if you need a place to stay, contact Innsbrook Village Country Club & Resort today!