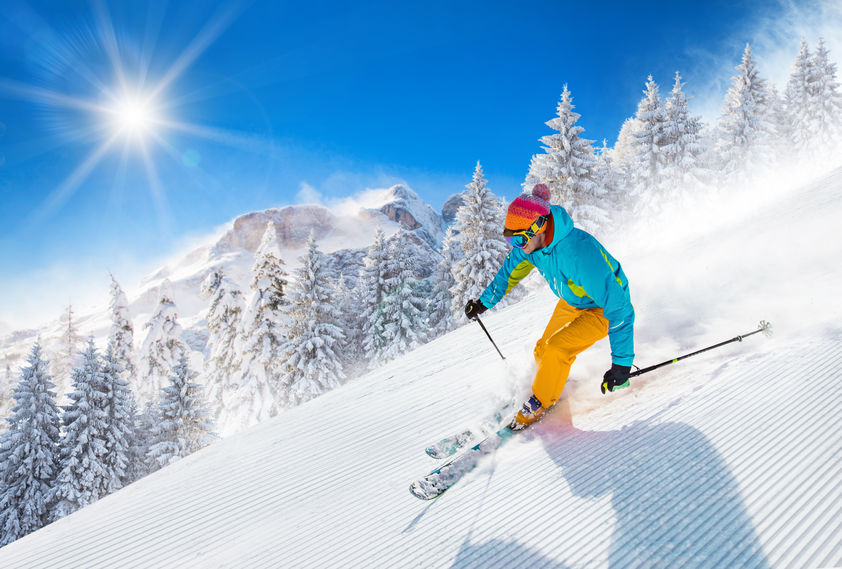 Whether you're looking for a weekend, getaway, or a week-long family vacation, there are plenty of fun winter activities and gorgeous scenery in Ruidoso, NM. When you travel to Ruidoso, you will discover the most amazing things to do in the winter! From exploring the town to adventurous outdoor activities, you'll find the perfect ways for you and your family to spend time.
Do you want to learn more about what there is to do in Ruidoso, NM? Well, here are some of our favorite things to do in the winter:
Go Tubing at Ruidoso Winter Park
For those who enjoy an adrenaline rush, we suggest going tubing at Ruidoso Winter Park. It's a perfect activity for the entire family. Each hill has designated lanes that make it easy and fun to race with one another. Once you reach the bottom of the slope, don't worry about having to lug your tube back up. There is a magic carpet conveyor belt that will bring you back to the top!
After your snowy adventure, end your day with a trip to the VIP igloo to snuggle up with a hot drink of choice and a delicious snack. The Ruidoso Winter Park is only a quick 8-minute drive from Innsbrook Condos.
Ski Apache Ruidoso
If you love to ski, we highly recommend visiting Ski Apache in Ruidoso, NM. There are about 55 runs and trails,11 lifts and New Mexico's only eight-passenger gondola that will take you to the top of the mountain. Once you reach the top of the mountain, you won't believe the mountain's breathtaking 360-degree views.
Whether you're new to skiing or you've been skiing your entire life, there is an option for everyone at Ski Apache.
Midtown Ruidoso Shopping
Have you started your holiday shopping? Well, if you're looking for a place to start, the midtown Ruidoso shopping district has plenty of boutiques, bakeries, art galleries, and other specialty stores for you to explore. Plus, with their convenient public parking lots, it makes it much easier to leisurely shop.
Tis the Season for Grindstone Stables Sleigh Rides
There is nothing more magical than experiencing a Ruidoso winter by sleigh ride. Horse-drawn sleigh rides will travel through the historic Upper Canyon area, the oldest part of Ruidoso. This is an excellent activity for families and children of all ages.
Sleigh rides will take place with or without snow, so make sure you don't miss this opportunity!
Try a New Local Beer or Wine
Ruidoso is known for having fantastic wineries and hidden gem breweries. If you're on the hunt for a new favorite wine or beer, check out these favorite local spots:
Noisy Water Winery
Established within the mountains of Ruidoso, Noisy Water Winery is known for its internationally award-winning wines. Guests can sample wines in their two excellent tasting rooms.
When you visit the Noisy Water Winery, you know that you're in for a good time. Everyone encourages a fun atmosphere for wine drinking, so guests are encouraged to let loose and make memories. 
Tall Pines Beer and Wine Garden
After a long adventure-filled day exploring New Mexico, you're going to want a place to sit back, relax, and unwind. At Tall Pines Beer and Wine Garden, guests can enjoy choosing from a selection of 17 craft beers or 20 different wines. With that large of a selection, you are bound to find a drink that you love.
If you're looking to plan a mini wine tour on your next trip to Ruidoso, check out our past blog post!
Planning a Winter Getaway to Ruidoso
When it's safe to travel to Ruidoso, NM, we highly encourage checking out these great winter activities. If you need a place to stay near all of the attractions, or have questions about Ruidoso, NM, contact Innsbrook Village Country Club & Resort today!