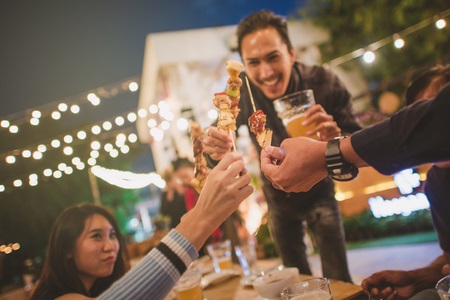 Wine, beer, and excellent horseracing: add in a little entertainment and some green Chile and you have the Chile the Kid Beer & Wine Festival.  New Mexico's craft wine and beer industry takes center stage at the first annual Chile the Kid Beer & Wine Festival, a beer and wine enthusiast's paradise filled to the brim with free sampling.
Ruidoso will soon come together for a fun weekend of heart-pumping horseracing, craft beer, delicious wine, and spice at the Chile the Kid Beer & Wine Festival.
Guests receive a free Chile the Kid Pint or Wine Glass with admission to the festival. Local merchants selling their wares and live entertainment offer plenty to see and experience over the weekend. Sample a wide selection of brands and styles of wine and beer each day during racing in the giant tent located outside the Billy the Kid Casino.
The Ruidoso Midtown Association started the Chile the Kid Festival and this year City Bank sponsors the event with proceeds benefiting non-profit and local businesses. Located at the Ruidoso Downs Race Track, the event runs from August 3 through August 5. All ages may attend this event. Advance tickets are $25 on Friday, $20 on Saturday, and $15 on Sunday. Door prices are $20 both Saturday and Sunday.
As one of the premier quarter horse racing tracks in the U.S., the Ruidoso Downs Race Track & Casino is the epicenter for some blazing-fast ponies during the racing season. The track hosts thoroughbred races as well as the All American Futurity quarter horse race, one of the richest in the world. As the only horse track in the U.S. and Europe with a separate quarter horse straightaway and oval thoroughbred tracks, the venue offers spectators a unique experience with world class racing in a down-home environment.
Over 300 slots await you at the Billy the Kid Casino, offering machines from the largest gaming manufacturers like Konami and Shufflemaster. Many slots include progressive jackpots and multiple wild card slot options.
Attending the Chile the Kid Festival provides the perfect excuse for an extended vacation. Take some time to relax at Innsbrook Country Club & Resort, your source for gorgeous condos and townhomes located near the Ruidoso Downs Race Track & Casino.