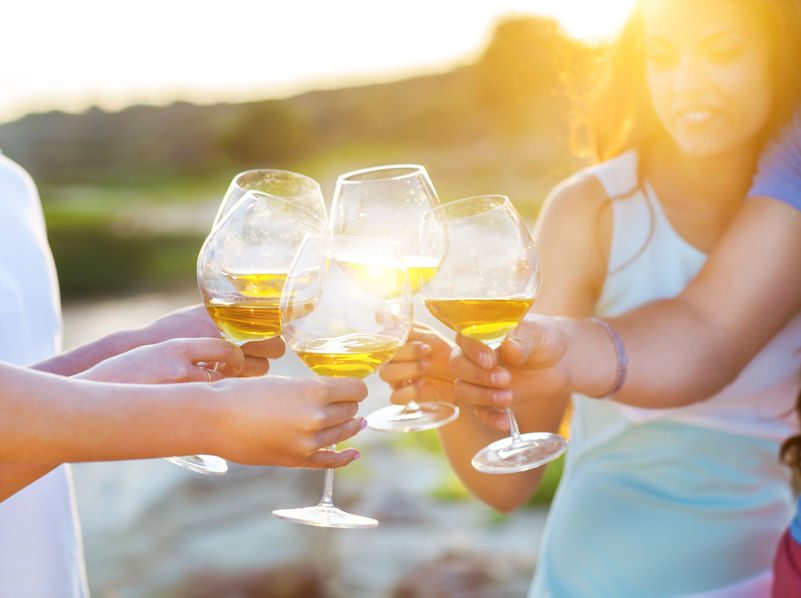 These days, everyone could use a nice weekend getaway, and let's be honest, probably a couple of glasses of wine too. If you're planning a short romantic getaway or a long-weekend vacation with your friends, Ruidoso, NM is the perfect place to explore!
When you travel to Ruidoso, NM, you can visit the many of the in-town wineries, while learning about America's oldest wine growing region. Did you know that New Mexico's history with viticulture can be traced back to the 1600s? That's right! There's so much more you can learn by visiting the many staple wineries in Ruidoso, NM.
Let's take a look at some of the New Mexican wineries you should plan to visit on your next trip:
Noisy Water Winery
2342 Sudderth Drive, Ruidoso, NM 88345
New Mexico born and New Mexico true, Noisy Water Winery is established in the mountains of Ruidoso, NM. This winery is a well-deserved stop as you journey through the wineries of New Mexico. Noisy Water Winery has even been recognized internationally for their wines. It's quite simple: they make wine, grow their own grapes, and they only serve you the best wine.
Also, they encourage a fun atmosphere for wine drinking, so you're guaranteed to have a memorable time when you visit. They offer a variety of delectable gourmet cheeses for you to try throughout your tastings. You can also indulge in other gourmet foods, including olive oils, vinegars, sauces, olives, and pistachios!
And when you're finished tasting, the front of the winery is a beautiful gift shop. You can taste and buy delicious wines and a few souvenirs to commemorate your trip to Ruidoso, NM.
The Cellar Uncorked
2332 Sudderth Drive, Ruidoso, NM 88345
A sister of Noisy Water Winery, and located just a few doors down is The Cellar Uncorked. With an entirely different menu, this winery is another must-see with unforgettable Midtown Ruidoso views. You even have the option to sip on your wine outside on their large deck while staring up at the breathtaking pines and beautiful Sierra Blanca view.
Like Noisy Water Winery, the wines at The Cellar Uncorked have won multiple awards in international competitions. The wines served are very limited releases, so remember to stock up on a bottle or two that you can take with you.
The Cellar Uncorked also has a gourmet olive oil and balsamic vinegar tasting bar where guests are encouraged to taste the heavenly combinations. Gourmet foods such as kinds of pasta, dips, and stuffed olives are also served.
Arena Blanca Tasting Room
37 Hwy 82, Alamogordo, NM 88031
Are you a fan of pistachios? That's right, pistachios. If so, you should add the Arena Blanca Tasting Room to your list of wineries to try. The winery is located at the Pistachio Tree Ranch, which is home to the world's largest pistachio! This goes to show that this unique winery has so much to offer.
When you visit the Arena Blanca Tasting Room, you can tour the pistachio orchards and vineyards, and sample the Southwestern flavors. After you taste your wine, you can visit the ice cream bar and stroll through the 94 acres of pistachio trees and 14 acres of vineyard.
Tall Pines Beer and Wine Garden
2213 Sudderth Dr, Ruidoso, NM 88345
If you're looking for a nice place to unwind, consider Tall Pines Beer and Wine Garden. Their large outdoor patio can seat 50 people, and guests can enjoy a selection of 17 craft beers or 20 different wines while snacking on a delicious cheese platter. The cheese platters are packed with gourmet cheeses, crackers, salami, nuts, olives, and fruit. Plus, they pair perfectly with your drink of choice!
Book Your Stay at Innsbrook Village Country Club & Resort
After a long day of exploring New Mexican wineries, stay at Innsbrook Village Country Club & Resort. Our luxurious townhomes and condos are the perfect place to rest after a long day of exploring Ruidoso, NM. Check out our condos and townhome rentals online!
Remember, rules are always changing for summer travelers. So, check the New Mexico restrictions before planning your stay!