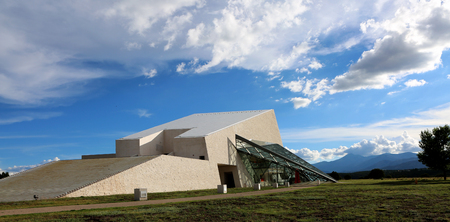 From skiing at Ski Apache to playing a round at our golf course, you will definitely be on the move during your trip to Ruidoso. But with the weather cooling down, you'll want to stay warm, and the nearby Spencer Theater is only a short drive away from Innsbrook Condos.
Here is a lineup of upcoming shows you can see when you stop by the Spencer Theater during your stay.
Stomp (playing on Thursday, Feb. 1 at 7 p.m.)
Stomp has been described as an "explosive, inventive, provocative, witty, and utterly unique" show, but you really have to see it to believe it. It features an eight-member troupe that uses everything from hubcaps and Zippo lighters to brooms and garbage cans to keep you entertained. They make beautiful music with the items and fill the stage with sounds that will be unlike anything you've ever heard before.
The Ten Tenors (playing on Thursday, February 22 at 7 p.m.)
Hailing from Australia, The Ten Tenors are an amazing musical group capable of performing a mix of opera, jazz, disco, modern, and classic pop, and you will be absolutely blown away by the performance they put on. They have entertained millions of fans all across the world in recent years and have the experience of performing in places like the Sydney Opera House, The Shrine Auditorium in Los Angeles, and London's Royal Albert Hall. They will keep you on the edge of your seat with classics from Verdi and Puccini, Queen, and more.
Popovich (playing on Friday, March 2 at 7 p.m.)
Do you love animals? Then you'll love Gregory Popovich's show, which features a colorful cast of more than 30 rescue pets. Part circus, part Las Vegas stage show, you will love the menagerie of dogs, cats, ponies, birds, and other pets. Popovich has been traveling across the country with his show for more than 20 years now, and if you haven't seen it yet, you're in for a real treat.
Innsbrook Condos will provide you with plenty of accommodations and make sure you have a great time with us during your trip. Call us at 575-258-5441 today to make a reservation!