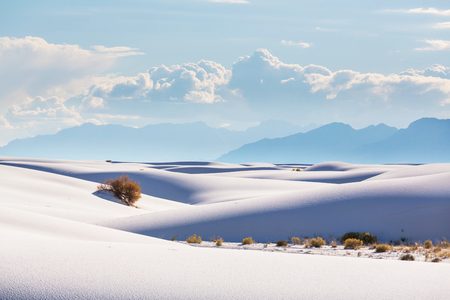 Ruidoso, New Mexico and the surrounding areas prove full of natural, ancient, and historical wonders. From national parks and monuments to prehistoric rock carvings and natural beautiful landscapes, there is no shortage of ways to appreciate the beauty and wonder of New Mexico.
Here we describe in detail the national landmarks and scenic landscapes that make Ruidoso a remarkable place to live and visit.
White Sands National Monument

The erosion of gypsum, a soft sulfate mineral, led to the soft, white sand dunes that make up White Sands National Monument, located in the Tularosa Basin between the Sacramento and San Andres Mountain ranges of southern New Mexico.
These dunes settle over the Chihuahuan Desert, covering 275 square miles, the largest gypsum dunefield in the world. Declared a national monument in 1933, the White Sands National Monument protects a portion of this dunefield.
Over 800 species of animals call White Sands home, and only the toughest and most tolerant forms of plant species thrive here. Footprints of history's American lions, ancient camels, mammoths, and saber-toothed cats abound in this area.
Take a serene hike down five unique trails for some silence and solitude among the dunes and mountains, or, if you choose, you can sled down the face of the dunes.
Lincoln National Forest
The Lincoln National Forest consists of three ranger districts (Sacramento, Smokey Bear, and Guadalupe) and three major mountain ranges — Sacramento, Guadalupe, and Capitan – that cover 1,103,441 acres in parts of four counties in southeastern New Mexico. Hundreds of gorgeous trails offer various hiking options full of breathtaking views and stunning New Mexican wilderness.
Lincoln National Forest provides numerous options for camping and picnicking, along with trails for horseback riding, rock climbing, scenic driving, hunting, and more. Winter sports include skiing/snowboarding, sledding, tubing, and snowshoeing. Get outdoors and enjoy nature in all ways imaginable in Lincoln National Forest.
Experience diverse types of natural environments, including mixes of high mountain meadows, mixed conifer forest, Chihuahuan desert, and rugged wilderness here.
Three Rivers Petroglyph Site
One of the largest and most interesting petroglyph sites in the Southwest, Three Rivers Petroglyph Site displays amazing examples of prehistoric Jornada Mogollon rock art. Rising above the Three Rivers Valley, this basaltic ridge boasts over 21,000 petroglyphs, or rock carvings, spread over 50 acres of the Chihuhuan Desert.
Visit one of the only locations in the Southwest set aside due to its rock art. Carvings, which date back to between 900 and 1400 A.D., include masks, sunbursts, wildlife, handprints, geometric designs, fish, and birds. The Jornada Mogollon people created the carvings with stone tools used to remove the dark patina on the rock's exterior.
Take your time exploring the trails leading through the petroglyphs, host a picnic, or camp on the site for extended enjoyment while on your stay in Ruidoso.
The Valley of Fires
Ancient lava fields await you at The Valley of Fires in central New Mexico. Part of the long Tularosa Valley, the Valley of Fires contains miles of buckled, twisted, basalt lava that was part of an extensive flow up to 165 feet thick and over 45 miles long and originating from several nearby volcanoes.
The volcanic action responsible for the Valley occurred between 1,500 and 5,000 years ago, but the Valley is well-preserved and features lava caves, pressured ridges, collapsed gas bubbles, and two types of lava: aa and pahoehoe.
The Valley of Fires offers 19 campsites and opportunities for exploring the lava fields with on or off-trail hiking, and elevated ridge views give you the perfect photo opportunities.
Ready to make the trip (or move!) of a lifetime? Find adventure and relaxation at Innsbrook Condos for everything you need in a cozy, homey condo.