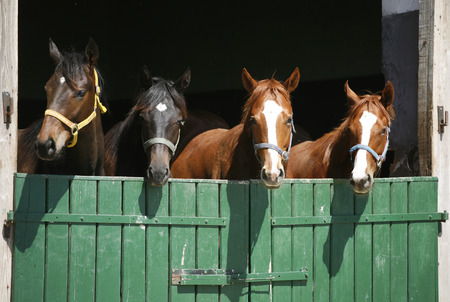 When you visit Ruidoso, you're either spending time at The Downs, wagering on a nail-biting horse race or saddling up your own stead at one of the many horse ranches scattered about the town.
Horseback riding has been a staple in Ruidoso tradition for years. And it's still very popular—it's just for leisure now instead of necessity.
Whether you're an avid horseback rider or just a beginner, Ruidoso has it all, making it an essential on your New Mexico vacation itinerary!
Where can you go horseback riding in Ruidoso?
There are several ranches that offer a variety of horseback outings you can choose from:
Grindstone Stables
There's a reason why Grindstone Stables is one of the oldest stables in Ruidoso: it's a true, authentic horseback riding experience, connecting you not only to the horses, but to the past.
At Grindstone, you can enjoy an hour of exploration and breathtaking scenery as you're guided through a gorgeous trail around Grindstone Lake near Midtown Ruidoso.
Here you'll see amazing wildlife; black bears roaming, Osprey's diving into the lake, and perhaps a glimpse of a Bald or Golden Eagle—an opportunity you do not want to miss.
The three-mile trail spans from the lake to Townsend Ridge, offering several breathtaking views along the way.
The owners of Grindstone Stables, James and Stephanie Townsend, started to offer horseback riding back in 1988 and their goal still to this day is to give people the opportunity to experience such a historical connection as well as get them to disconnect from technology and enjoy the fresh air of the outdoors.
Bonito Stables
Robert and Sandra Runnels are the proud owners of the Bonito Stables, offering one-hour guided horseback rides throughout the mountains.
Your horseback riding experience is sure to be an intimate one at these stables with guides that answer all of your questions but allow you to take in the beauty of your surroundings.
There is no electricity or cell service at Bonito Stables (what better way to make you feel like you're horseback riding in the past?), so most riders just show up and are accommodated!
Hours are 10 a.m. to 3 p.m. and if you have any questions, give the Runnels a call at 575-354-2778 any day after 6 p.m.
Inn of the Mountain Gods
At this most popular Ruidoso resort and casino, you'll find a comedy club, a delicious buffet, fishing, a championship golf course, and some of the best horseback riding in town.
Their horseback riding trail starts at the stables, south of the Inn of the Mountain Gods resort, and treks around the Inn's golf course, skirting Mescalero Lake and giving you breathtaking views on your journey.
Many Inn guests and visitors alike flock to these stables, so it's suggested that you call ahead to make a reservation to ensure that you get the ultimate horseback riding experience.
Are you looking for an activity that the whole family can enjoy or a truly romantic way to experience the magnificent backcountry of New Mexico?
Look no further than horseback riding in Ruidoso! Trust us—it's the perfect addition to your itinerary.
And for a comfortable place to relax and rest at the end of your fun-filled day, turn to Innsbrook Country Club and Resort. We have spacious condo rentals that is perfect for your family trip or romantic getaway.
Call us at 800-284-0294 today to start planning!