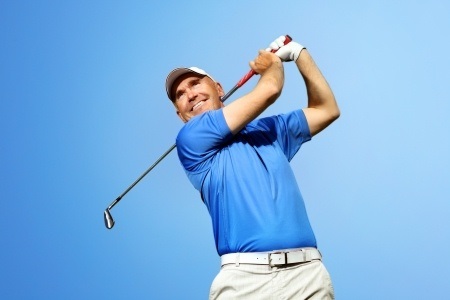 Spending a morning on the green is a favorite pastime for many Americans, but did you know that golfing has health benefits?
Golfing on a regular basis can bring plenty of health benefits in addition to keeping your handicap low.
Heart Health
The health benefits of golfing start with your heart. Any form of regular exercise, even just walking from one hole to the next, is good for your cardiac health. You can easily keep your heart rate up by moving around, and if you enjoy golfing, it won't even feel like exercise. Whether you're playing nine holes or all eighteen, you're probably covering anywhere from 30 to 200 acres of land.
Brain Health
Golf also offers a variety of brain health benefits, which are important to take advantage of regardless of age. Golf is a game of skill and strategy, so competing in helps to keep your mind sharp. Walking also helps enhance brain memory circuits, which you do a lot of while golfing. Keeping your brain's nerve cells stimulated can help prevent disease such as dementia.
Reduce Stress and Depression
A combination of fresh air, mild exercise, and socializing with your friends can help to reduce your stress levels, keeping you happy. All of these things will help you feel balanced, thus reducing stress. Adding some regular golf into your weekly routine can be therapeutic. Plus, you'll sleep better at night after a day of golf.
Vision
Golf has even been recognized for improving your vision: it takes serious eye health to successfully hit your golf ball and towards your ideal location. Golfing regularly will keep your hand-eye coordination in check while encouraging healthy eyesight.
Vitamin D
Golfing gives you the opportunity to soak up a little extra vitamin D as well, which comes with plenty of benefits. Vitamin D can help improve energy levels, bone growth, and heart health. Just remember to wear sunscreen to prevent getting burned.
Looking to stay healthy and get in some exercise while on vacation? Visit Innsbrook Country Club and Resort for access to golfing courses, tennis courts, and access to other physical activities.