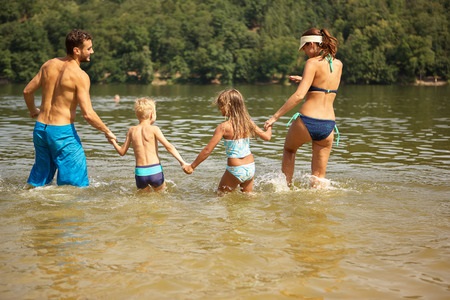 If you love hitting the water in summer months and you're visiting Ruidoso this summer, you're in luck.
Swimming is now allowed at Grindstone Lake Reservoir in Ruidoso, under an amended list of ordinance rules approved by the city council this week.
An article from Ruidoso News explained that the new ordinance comes just after the development of camping sites in the area, plus planned hiking and biking trails in the Lincoln National Forest, and around the reservoir. Swimmers and visitors of the reservoir can enjoy paddle boarding, scuba diving, boating and fishing: this might just be the most perfect spot to spend a summer afternoon!
Grindstone Lake Reservoir is located a short ten minutes from Innsbrook Condos, so if you're spending a few days at Innsbrook in the coming weeks, you might want to plan on checking the reservoir out. The area has everything you need to enjoy a warm summer afternoon—just pack a picnic basket and throw the kids in the car. There are public restrooms located on the upper level of the parking area, so you won't have to drive back to the condo unless you forget the Frisbee.
Public pools can be over-crowded and uncomfortable, but the reservoir has plenty of room for families and people of all ages to spread out and soak up the sun. Plus, if you get tired of swimming, head up to the trails for a bike ride or some bird watching and see if you can spot the local ospreys or an eagle!
There are designated fishing areas, perfect for kicking back with a cold one and waiting for the catch of the day. The whole family can drive over and spend the day swimming, paddle boarding, scuba diving, and exploring.
View more info on the reservoir and information on rental reservations at Innsbrook Condos. Get the summer started today!