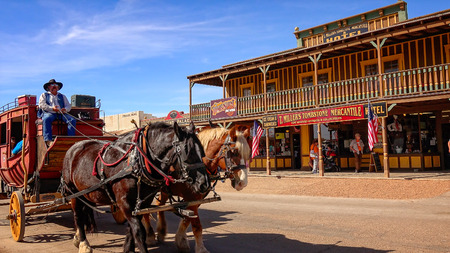 From cowboys and six-shooters to horses and gunfights, we have a strong interest in the passion which fuels Wild West history around Innsbrook Condos.
You can fuel your own fascination with the Old West by planning a visit to these Ruidoso, New Mexico family-friendly attractions this year!
Flying J Ranch

Do you want to experience life like an old cowboy from the Wild West? Flying J Ranch offers over 30 years of authentic Great American western fun in Ruidoso.
Indulge in a traditional supper similar to what cowboys were served out on the trail, with tender brisket, cowboy beans, potato, flaky biscuit, and strong cowboy coffee. BBQ grilled chicken, chunky applesauce, spiced caked, and tea or lemonade supplements your authentic western meal.
Or, fill your heart with western ballads spinning tales of the great American cowboys by enjoying the Flying J Wranglers Western Music Show, complete with fiddling, banjo plunking, guitar picking, and world champion yodeling. Try your hand at cowboy tricks such as cattle roping, gold panning, and pistol shooting with real old west six-shooters.
Bring your little buckaroos by the Pony Express where they can saddle up for a pony ride, or enroll them in Deputy Training School and watch them help Sheriff Roy catch the Bonita City gunfighters.
Billy the Kid Scenic Byway

Take a break from the ever-rushing pace of life at the Billy the Kid Scenic Byway. Start your journey in the town of Lincoln, one of the best-preserved Old West towns in the United States. Choose "authenticity over Hollywood" on this one-of-a-kind experience.
Endure a bumpy stagecoach ride for a realistic simulation of 19th century travel. See some legendary sites made famous by Billy the Kid, such as the Lincoln courthouse and the jail that he escaped from in 1881. Learn some history about the real Smokey Bear that survived a fire in the Lincoln National Forest and became the face of fire safety.
Hubbard Museum of the American West
A trip to Ruidoso would be incomplete without a visit to the Hubbard Museum of the American West, bringing exploration of the heritage of the American West to life since 1992. See, understand, and live the Old West through enduring art forms.
You can view stunning western exhibits here as you journey through the American West, including a frontier weapons exhibit that shows the evolution of firearms on the American Frontier. Help the museum celebrate 25 years by looking at exhibits that sought to preserve American Western heritage over time. Explore the different perceptions of the West through various art forms to see how the West has been romanticized over time.
All cowboys need a place to lay their head when the day is done. Book your stay at Innsbrook Condos and rest up before hitting the old trail again tomorrow!