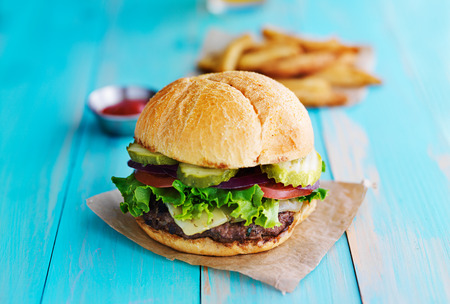 The cheeseburger has been a staple of American cuisine for as long as anyone can remember, but here in New Mexico we've managed to put our own spicy spin on the iconic sandwich that has become popular throughout the Southwest. The origin of the green chile cheeseburger is a subject of some debate, but there's no question that this burger is as New Mexican as Billy the Kid or the Rio Grande.
Some say the green chile cheeseburger was first made during the 1940's at the Owl Bar & Café for scientists working on the Manhattan Project. Others argue that the cheeseburger originated later at the first Blake's Lotaburger restaurant in 1952. Nowadays, you can find green chile cheeseburgers at bars, restaurants and diners all over the state.
That's why State Representative Matthew McQueen wants to establish the green chile cheeseburger as the official burger of New Mexico. He's currently sponsoring a bill that would do just that. It recently reached the committee stage of review, and it's been well received by many of the state's most famous purveyors of green chile cheeseburgers.
I think it's a great idea," said Lucy Rosen, marketing director for Blake's Lotaburger in an interview with the Albuquerque Journal. "I fully support it."
New Mexico's Tourism Department has also expressed support for the establishment of a state burger. The department has even outlined a "Green Chile Cheeseburger Trail" on its website to help visitors find some of the best sources for the iconic culinary creation.
Now we want to hear from you! What's your favorite place to get New Mexico's best burger? Share with us in the comments!