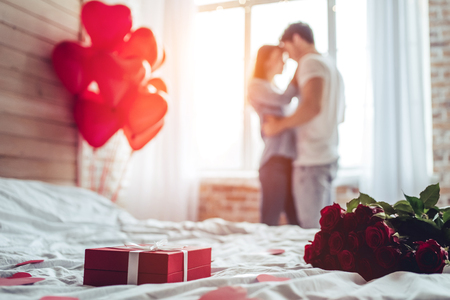 Valentine's day is a special day on the year in which we express our love and affection to those closest to us. Particularly a spouse or significant other. This upcoming Valentine's Day occurs on a Friday which makes it ideal for a weekend getaway. This is the perfect time to start planning a romantic trip for the one you love.
Here are a few tips to help plan your romantic weekend:
Synchronize Your Schedules– If you are planning this trip as a surprise, be sure to check that your significant other has time to go away with you for the weekend. Check their work schedule and be sure they will be able to have off for the weekend. You might even want to request that their boss let them off. If it is not a surprise you can simply ask them to take off of work for the weekend.
Book the flight– It is best to book your travel accommodations sooner rather than later. If you've been looking up the ticket prices for a couple of weeks, be sure to clear your browsing history first. This will ensure that you get the best price. Most websites save your browsing history and increase the price based on your searches. If you are trying to surprise your partner, make sure not to book the trip on a shared credit card or through shared airplane miles. This will ensure that they don't receive a notification about your plans!
Plan the trip– Now that you've figured out the schedule and booked the flight it is time to plan your mini vacation. There are many different options when planning a romantic weekend away. What you choose will depend on what kind of activities you and your significant other enjoy. Some couples love to head outdoors for adventure and connecting with nature. Other couples may enjoy a relaxing tie indoors sipping wine over a candlelit dinner.
Choose the Destination 
For the perfect amount of outdoor entertainment and romantic excursions, visit Ruidoso, New Mexico, this Valentine's Day!
There are a few different options for couples that want to experience the beautiful outdoors in Ruidoso. 
Hiking- Ruidoso is home to some of the most scenic camping trails in the nation. Explore Grindstone Lake or Cedar Creek trails for a day of beautiful sight-seeing.
The Lincoln National Forest and two wilderness areas provide the opportunity for hiking, backpacking, and camping in terrain that ranges from the easily accessible to remote and rugged wilderness. They also have horseback riding.
You can also head up to Ski Apache for a day of snow-filled activities like skiing, snowboarding, and ziplining. This attraction offers the country's southernmost ski area with warm-weather powder skiing. Enjoy over 55 runs and trails including beginner slopes, tough runs, cruising runs, a huge bowl, and a terrain park complete with jumps, tubes, and rails.
If you'd enjoy a calmer more relaxing getaway, try booking a massage at Blue Lotus Day Spa & Yoga Studio. This is a great way to relax and unwind, especially after a long week.
You can also visit some of the many wineries and taste internationally award-winning wines.
Noisy Water Winery is an excellent winery and family operated business. This winery features many delectable gourmet cheeses which you can try in the tasting rooms located in the back. It also includes a quaint gift shop where you can purchase the wines.
Start planning your Valentine's Day getaway now! Innsbrook Village Country Club & Resort is the perfect location to begin and end your days while staying in Ruidoso. Our luxurious townhomes and condos are perfect for sharing a romantic weekend with your special someone. Check our rental page to see what townhomes/condos we have available for rent.