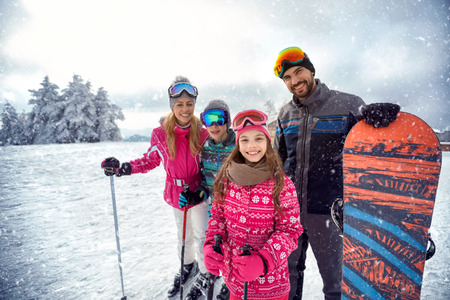 This season can be a tough time for many Americans, between balancing work, school, and the holidays it can become extremely overwhelming. This holiday season, why not treat yourself to a relaxing winter vacation?
There are several vacation opportunities in the winter that just aren't available in the summer. For example, skiing trips are much more limited and harder to plan during the rest of the year, and there are so many great sights that just aren't possible except in winter. If you are looking for a great location to visit this winter Ruidoso is an excellent destination. This mountain village maintains a moderate climate, so you won't be freezing during your trip, but you can also take advantage of exciting winter activities!
Fun in The Snow
Whether you're looking to take part in winter activities such as skiing or and snowboarding, or you want to escape drastically cold temperatures, New Mexico offers something for everyone! Ruidoso is known for its natural beauty, and that is especially true throughout the next few months. While much of the state will remain moderate and comfortable for anyone to enjoy, the snow-covered peaks of New Mexico's mountains are perfect for snowboarding and skiing.
If you are planning a snowboarding or skiing trip be sure to pack the proper clothing! There are so many great spots to choose from, and you don't even have to get on skis or snowmobiles to enjoy it. Ski Apache is a great location for enjoying skiing snowboarding and even ziplining. The slopes are a mixture of wide beginner slopes to more intense terrain for advanced skiers.
Nature & Adventure
If you're feeling a little less extreme, there are still plenty of opportunities to take in the sights of Ruidoso by hiking a nature trail through Grindstone Lake! Grindstone Lake is also a great location for camping and fishing. The lake is regularly stocked with rainbow trout, catfish and smallmouth bass. Boating on the lake is allowed year-round with a permit.
A winter vacation is also a great way to reconnect with friends or family members you may not have had a chance to see in the summer. You likely have some close relatives or friends who weren't available the rest of the year, but they may have some extra time off around the end of the year. Reconnect with some people you haven't seen in a while and plan an exciting winter vacation together!
Festivities & Fun
Ruidoso is also known for its history and culture, and there is no better time to experience that than winter. There are a number of unique festivals and celebrations around the state, particularly during the week of Christmas and New Year's. The annual Festival of Lights Parade takes place on Dec 7TH. This parade celebrates the spirit of Christmas with beautiful light shows! There will also be a collection of toys for Toys for Tots. Following the parade there is an after party at Wingfield Park in which there will be food, drinks and an outdoor showing of "It's A Wonderful Life." This is fun for the whole family with activates for children, such as roasting of marshmallows, and even a chance to have a photo opt with Santa!
If you are visiting Ruidoso this winter be sure to book your accommodations soon! Complete your Ruidoso vacation by staying at Innsbrook Village Country Club & Resort! With a variety of spacious, luxurious condo and townhome rentals, you will find the perfect space to accommodate your needs. Call 800-284-0294 or go online to learn more about making a reservation! Start planning your winter vacation today!