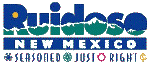 In this blog, we've dedicated many blog posts to the virtues and beauty of Ruidoso, NM. Many living in this area don't need to be illuminated on these things; it's in their backyard, but for others in the country, they may still need a little push to take a trip here. Thankfully, there are rankings awarded to tourist destinations, one such ranking being the responsibility of Moody's Investors Service, which has assigned an A1 to the Village of Ruidoso. What this means is that Ruidoso has a very strong financial position and is expected to maintain its healthy reserve levels.
That might sound like a lot of mumbo jumbo, but what this Moody's Investors Service rating entails is a thriving business community and a steady supply of well-received events and fairs that add to tax base growth and diversification, that helps to see an increase in available reserves. At Innsbrook Condos, we expect that rating to get better over the next few years – and it helps with area events like the International Folk Art Market, which recently had a three-day extravaganza.
The International Folk Art Market is, believe it or not, in its 12th year and is one of the most popular events in the region. Featuring hundreds of artisans, many of them from countries all over the world, this event attracts thousands of people each year, making Santa Fe's Museum Hill the art capital of the southwest for the duration of the festival. Attendees can purchase things like hand-woven baskets, rugs made of recycled clothes, and old-fashioned ceramics.