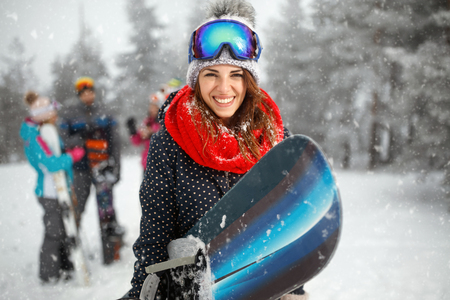 During the summer, locals and vacationers have enjoyed a number of warm-weather activities at Ski Apache including mountain biking, zip-lining and hiking. Summer on the mountain is always fun, but as we enter the colder months of the year it is time to transition to the exciting winter activities!
The holidays are just around the corner, which means it will soon be time to hit the slopes for skiing and snowboarding! Ski Apache, New Mexico's premier skiing destination located right here in Ruidoso, will open its slopes on Thanksgiving Day.
The slopes will open on November 9th for the annual Party on The Mountain. Skiers of all skill sets will be able to tackle the mountain's 55 different runs. There will be a variety of activities for the whole family to enjoy!
If you are planning a ski trip this season, here is a list of the essentials you should bring:
Base Layers– It is important to dress in layered clothing to ensure you stay warm while navigating the slopes. A base layer of long johns will help to maintain your natural body warmth and provide insulate to the cold weather.
Ski Coat- A thick coat is essential for a skiing trip. Be sure that your coat is waterproof to repel the snow.
Fleece jacket- You do not have to wear this layer, but it is an added option to help keep the cold air out while navigating the lopes.
Snow Pants- Keep your legs warm with these insulated pants!
Ski Goggles- You will need ski goggles to protect your eyes from, the snow and cold air.
Gloves & Mittens- Keep your hands warm with insulated gloves and mittens.
Scarf/ Neck sleeve- Keep your neck warm and cold air out with a buff or neck warmer.
Ski Socks- You may want to wear a couple of layers of socks or socks made specifically for skiing. Be sure that you have at least one long pair-the last thing you want is snow getting in your boot and trickling down to your feet. Be sure to tuck your base layer pants into your socks!
Ear band- When the wind picks up you will feel the cold air against the tip of your ears if you don't keep them covered with a warm headband.
Ski Boots- It is important to pack ski boots and not just your trusted winter boots. You will need the grip and leverage that ski boots provide to remain stable on the snow.
Hand/feet Warmers- This is optional but small hand warmer packs can be placed in your boots and mittens for added warmth.
Chapstick/ Vaseline- The cold air will dry out your skiing so be sure to pack a tube of Chapstick to stop your lips and skin from possibly cracking.
Whether you're an avid skier or brand new to the sport, Ski Apache has a little something for everyone! From the
peaks of Ski Apache, you can get a stunning view of the surrounding area. The top of chairlift 6, in particular, is a favorite destination for tourists and local sightseers. Even if you're not much of a skier, it's worth the trip up for the scenery alone. It also offers a total of 55 different runs to accommodate skiers and snowboarders of all experience levels.
Be sure to book your accommodations for your trip at Innsbrook Village Country Club & Resort! With a variety of spacious, luxurious condo and townhome rentals, it is the perfect place to unwind after a long day on the beautiful mountain!. Call 800-284-0294  or go online to learn more about making a reservation!