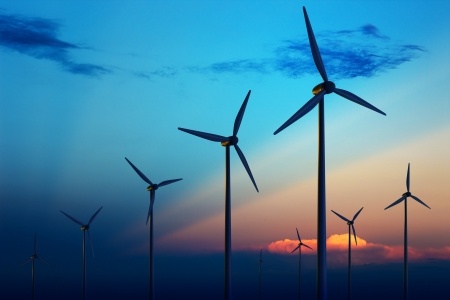 Just a few years ago, renewable energies like wind and solar were so expensive that many people thought they might never gain widespread acceptance in America. Now, thanks to significant technological improvements and generous federal subsidies, renewable energy is becoming even more affordable than fossil fuels. According to the Albuquerque Journal, the price of wind energy has fallen by 66 percent in the last five years. That's why more cities and states are building wind farms and solar plants than ever before.
New Mexico has attracted a considerable amount of interest from renewable energy developers thanks to its vast, open landscapes and sunny climate. In fact, the state's bureau chief for the energy, conservation and management division at the Energy, Minerals, and Natural Resources Department recently announced that there is more than a gigawatt of wind energy coming to New Mexico over the course of the next several years.
If everything goes according to plan, New Mexico will soon have enough wind capacity to power roughly 700,000 homes each year. Currently, wind energy in New Mexico can power about 350,000 homes. The biggest project on the horizon is the $500 million El Cabo Wind Farm outside the city of Moriarty. When it opens next year, it will become the largest wind farm in the state.
All this money flowing into the state from energy development companies is pretty exciting, but it could be just the tip of a very large iceberg. The eastern plains of New Mexico have enough wind energy potential to generate a whopping 11 gigawatts of electricity—about 75 times more power than the state needs. If energy developers were to tap into that potential, New Mexico could become a renewable energy hub for the entire Southwest. It will take some significant infrastructure improvements to New Mexico's power grid to make that possible, but with the cost of wind power falling dramatically, it could be a very worthwhile investment for the future.