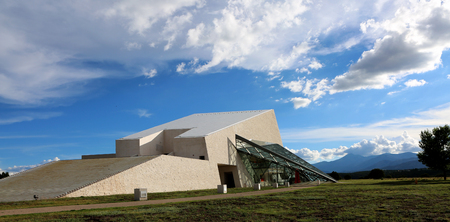 Ruidoso, NM is a great destination for travelers all year long that offers a wide array of recreational and entertainment options. Skiing in the winter, fishing and swimming in the summer, three of the area's best casinos and many other attractions make this area a great place to get away from the hustle and bustle of everyday life for a while.
For the sophisticated sightseer, there are a number of cultural options that can make for a fantastic evening out on the town. One such destination is the Spencer Theater for the Performing Arts, a major live performance theater for the entire South-Central region of New Mexico and located squarely in the quaint village of Ruidoso.
An Incredible Facility
The Spencer Theater is an architecturally stunning building located on the flatlands surrounding Ruidoso.
This facility features live theatrical and dance programs throughout the year that delight crowds of all ages.
Patrons of the theater also enjoy fine dining events held by the theater in conjunction with various performances.
Theater Features
The state-of-the-art 50,000 square foot theater holds 514 seats and has a number of unique features that make it a definite must see during an extended stay in Ruidoso, NM.
The main entrance is called the Crystal Lobby, a glass-enclosed structure that took a total of seven months to fully complete. The Founder's Room, a special facility used for many of the theater's banquets, provides access to a terraced outdoor waterfall. Bars are available in multiple areas.
Exploring the Theater
If you are visiting Ruidoso and are interested in viewing a theatrical, dance or musical program while in town, take a look at the theater's upcoming attractions that are regularly being updated.
Tourists who want to get a glimpse of the theater without paying for a ticket, or who don't visit while any shows are ongoing, can attend one of the theater's many guided public tours, held on Tuesdays and Thursdays.
When you have made the decision to stay in Ruidoso, NM for a few days and want a place to stay while you check out all of the culture and entertainment nearby, we ask that you think of us at Innsbrook Village.
Our spacious condos and townhomes will be the perfect place for you to relax a show at Spencer Theater. No matter what your rental needs may be, we ask that you reach out to our staff today at (575) 258-5441.