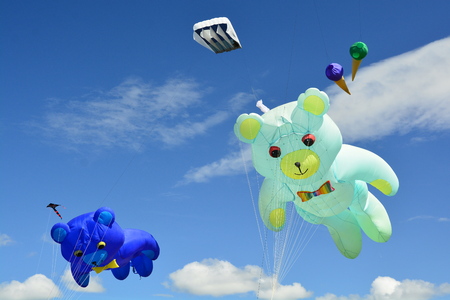 There's no better complement to a sunny day than the sight of a kite lofting on the breeze. This weekend, you can see a sky filled with kites at the White Mountain Recreation Complex thanks to the Village of Ruidoso Parks and Recreation Department. Summer might be coming to a close, but that doesn't mean we can't still get outside and enjoy the nice weather. In fact, the fall is one of our favorite times of year here in Ruidoso. And what better way to welcome autumn than with a kite festival?
On Sunday, September 25 from 9 a.m. to 4 p.m. a variety of colorful kites will take flight over Ruidoso. In addition to the many kites at the event, attendees can also catch paragliding and power gliding demonstrations from local enthusiasts. Kids can take part in a free kite assembly workshop and learn how to fly their very own hand-made kite. Afterwards, they can even blow off some steam in a bounce house. Concessions will also be available throughout the day.
The parks department has hosted this event for a number of years now, and it never fails to deliver some colorful, charming and truly unique kites. This year, the department supervisor expects about 150 people to be in attendance. This is a fun, family-friendly event that is sure to make for a lovely end to the weekend.
Come on down to take part in the fun on Sunday, and stay tuned for more updates on all the happenings in our area from Innsbrook Condos!