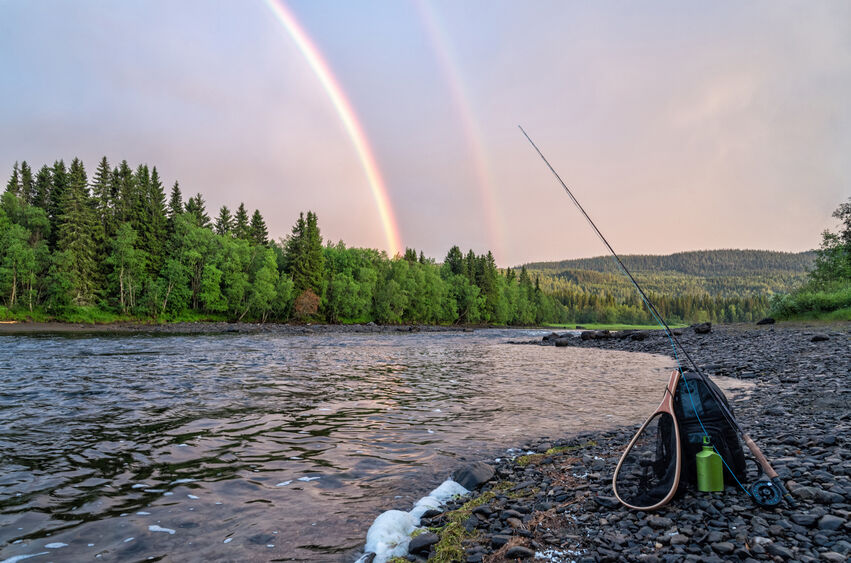 When you're planning an upcoming fishing trip and are looking for a beautiful area that offers incredible fishing, consider Ruidoso, NM.
Ruidoso is home to several lakes and creeks that provide incredible scenery and loads of rainbow trout, catfish, smallmouth bass and more that you keep you busy during your entire stay.
No matter if you're looking to reconnect with nature or want to bag the fish if your dreams, Ruidoso is the perfect location for your upcoming fishing trip with your family and friends.
Incredible fishing at local lakes & creeks
Ruidoso is home to several beautiful lakes and creeks that are perfect for fishing. Grindstone Lake and Alto Lake are located just a few minutes from Ruidoso and offer a variety of fish that include rainbow trout, catfish, smallmouth bass and more.
Another popular fishing destination is Rio Ruidoso or "noisy river". Tucked in the beautiful Sacramento Mountains, this river is a quiet and relaxing destination that is known for fly fishing.
Carrizo Creek is another popular fishing hole and is the location of the local hatchery and nursery for brown trout. Anglers are asked to practice catch and release at this creek.
A wide range of fish
As mentioned above, Ruidoso is home to a wide range of fish that include rainbow trout, brown trout, catfish, smallmouth bass and more.
No matter if you prefer fishing from shore, by boat or getting right into the thick of things by fly fishing, you will be sure to come across a wide array of fish that will keep you busy from the minute you first hit the waters.
Incredible scenery
Another reason to choose Ruidoso for your upcoming fishing trip is the incredible scenery you will see. Whether it be the majestic Sacramento Mountains that surround Ruidoso or the beauty of the lakes and creeks in the area, you're sure to see some of the most breathtaking scenery in the state that is sure to give you a feeling of peace and relaxation each time you cast your line.
Should you decide that Ruidoso, NM is right for your next fishing adventure and you are looking for a luxury condo or townhome rental for your group, we invite you to stay with us at Innsbrook Condos.
Our condos and townhomes offer you and your fishing party a relaxing place to rest after a long day on the water and come with all the extras you could possibly need including a golf course, heated outdoor swimming pool and much more.
Give our friendly team a call today at 1-800-284-0294 to book your stay.